Join Our List

| | |
| --- | --- |
| Volume 4; Issue #1 | Winter, 2007-08 |
Dear Doctor,

We need your help, immediately.
You need our help, immediately.

Improving Maggot Therapy Reimbursement
I am writing to ask you to join us and your colleagues in support of better reimbursement for maggot therapy.

Medical reimbursement, whether through Medicare, private insurance, or other third-party payors, is dependent upon procedure and product codes. The BTER Foundation and others are requesting a designated CPT code for maggot therapy, and a designated HCPCS code for medicinal maggots (see our web site for more information).

We need your support, right now, before decisions are made without us.



Here is how you can help:



1) Send a letter to the BTER Foundation, the American Medical Association (AMA), or the Centers for Medicare and Medicaid Services (CMS) if you agree with our request. Explain that maggot therapy should be given its own procedure code because it is a unique method with expenses not otherwise met. Remember: new codes will be created only if there are many people who would use them, so

each and every voice is important.



2) Contact your Professional organization and ask them to support our request for a CPT. Whether you belong to a medical, nursing or physical therapy association, whether you also belong to a wound care society or other professional organization, your Professional Society's representatives can contact us directly, or can contact the AMA to express their support. They will know the proper ways to communicate support of CPT and HCPCS coding requests.

If you are an officer, or sit on an advisory committee for your professional society, then please consider recommending that your Society support our request for designated CPT and HCPCS codes for maggot therapy. With your help, we can demonstrate that maggot therapy is common enough and important enough that it should be reimbursed as fairly as other wound care modalities.

3) Ask your colleagues to do the same. You can even forward this newsletter to them.

Using the addresses below, write to us, to the AMA Committee for CPT Coding, and/or to the Center for Medicare and Medicaid Services (CMS). As samples, see the letters on our web site

.



We have been supporting therapists and patients for 5 years. We produced treatment guidelines, educatiional courses, patient grants, and helped achieve FDA marketing clearance. Help us Help you, again.

Sincerely,




Ronald Sherman, Director,
BioTherapeutics, Education & Research Foundation
BTER Foundation Address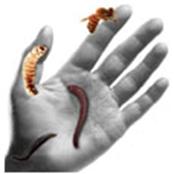 BioTherapeutics, Education & Research Foundation
36 Urey Court
Irvine, CA 92617
Fax: 949-679-3001
E-mail: RSherman@BTERFoundation.org

AMA CPT Coding Committee Address
American Medical Association
Department of CPT Editorial Research and Development
515 N State St
Chicago, IL 60610

CMS Address
Medicaid HCPCS Coordinator
Centers for Medicare & Medicaid Services
Mail Stop S2-01-16 7500 Security
Boulevard Baltimore, MD 21244-1850


Do You GoodSearch?
Everytime you search the internet, you could be generating funds for the BTER Foundation.
Thank you for your continued support fo the BTER Foundation. Let us know how we can help you.

Sincerely,
Ronald Sherman, Director,
BioTherapeutics, Education & Research Foundation