Join Our List

Forward to a Friend

| | |
| --- | --- |
| Volume 4; Issue 3 | June, 2008 |
Greetings!

In this issue, we will update you about news and events in biotherapy. But first, here is an update about insurance reimbursement for maggot therapy . . . .
Update on Maggot Therapy Reimbursement

Procedure codes (CPT) and product codes (HCPCS) are used by the health care industry to facilitate reimbursement by private and government insurance. These codes exist for nearly every medical procedure and product, allowing them all to be identified on insurance claim forms. But such codes still have not been issued for maggots or maggot therapy.

Reimbursement coding is crucial for obtaining insurance compensation for maggot therapy, and for assessing the level of use. Without specific insurance codes to denote maggots and maggot therapy, patients and therapists often have to appeal an initial denial before the procedure will be reimbursed. When maggot therapy is not reimbursed, the BTER Foundation steps in to subsidize the costs of treatment, or will make an appeal to the insurance carrier on behalf of the patient and therapist.

This year, the BTER Foundation again joined with others to request better reimbursement for magggot therapy. Procedure (CPT) coding is designated by the American Medical Association (AMA); product coding and reimbursement for maggots (HCPCS codes) are assigned by the Centers for Medicare and Medicaid Services (CMS).

We want to thank all of you who responded with letters of support for improved reimbursement coding. They were presented to the appropriate officials, and Dr. Sherman will be publishing some of the letters annonymously in his Biotherapy Blog. They made a powerful impression at our meeting with CMS last month, but we do not yet know what the final decision will be concerning HCPCS coding for medicinal maggots (results will be published by CMS in October). We do know that the AMA Committee for CPT Coding did

not

approve establishing a procedure code for maggot therapy. We plan to appeal that decision, and we hope you all will write letters again in support of a CPT code. Send your letters to the BTER Foundation so that we may include them with our application. Again, sample letters appear on our MDT Reimbursement website and our Biotherapy Blog (www.bterfoundation.blogspot.com/).

For more information on this issue, including how to write a support letter of your own, visit the MDT Reimbursement page on our website.

BioTherapy in the News
Mary Jones and her Maggot Therapy work are formally recognized by the Queen of England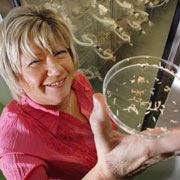 Mary Jones, who has spent the past 12 years teaching and promoting maggot therapy in the United Kingdom, was awarded an MBE in the Queen's New Year Honors in UK for her services to nursing. Read more about it at:
http://news.bbc.co.uk/1/hi/wales/7163148.stm
BTER Foundation Announcements
Board Member Pam Mitchell publishes Memoir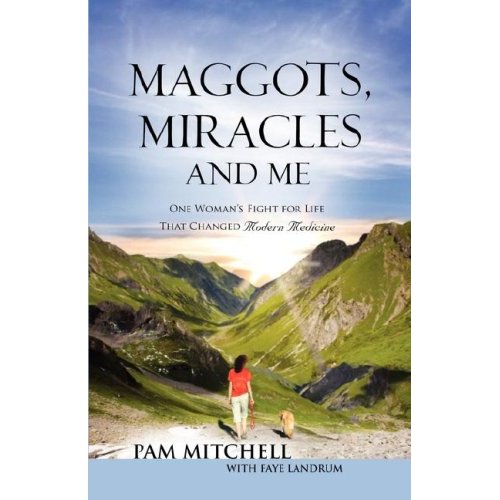 Pam Mitchell's autobiography is now available again in paperback, and still getting great reviews. If you order your copy through the BTER Foundation Website, you can get the great prices of Amazon.com and Amazon will donate a portion of the sale to the Foundation. In fact, get all of your books through the BTER Foundation-Amazon.com web link.

Other Ways to Support the BioTherapy


There are many ways to support biotherapy and the patients whose lives are improved by it. Donations are only one way to support the Foundation. Purchasing books, gifts, novelties, or almost anything else through our shopping portals will lead the the vendors to donate a portion of the sale to the BTER Foundation. In fact, if you and your friends simply set this GoodSearch browser page as your internet home page or at least use Goodsearch.com as your internet browser, then every search you do will generate $.01 for biotherapy. Just 100 people searching on the internet just once each day would generate $365 each year ($366 this year!) Try it!!

Courses & Meetings
BTER Foundation Workshops and Exhibits
Conferences with BioTherapy Lectures & Posters
WOCN-Pacific Coast Region; March 27-28, 2008; Carmel, CA
Symposium for Advanced Wound Care; April 24-27; San Diego, CA
Diabetes Expo-Los Angeles; May 3; Long Beach, CA
World Union of Wound Healing Societies; June 4-8; Toronto, Canada
Undersea & Hyperbaric Medical Society; June 26-28; Salt Lake City
American Podiatric Medical Association; July 24-27; Honolulu, HI
Diabetic Limb Salvage; September 18-20; Washington, D.C.
Wild on Wounds; September 18-20; Orlando, FL
American Association of Equine Practitioners; December 6-10; San Diego, CA

How about a Workshop in Your Town?


To arrange a maggot therapy or leech therapy workshop in your community, contact the BTER Foundation. Local and national experts are available to provide 1-hour lectures, full day workshops, and anything in between.
Do You GoodSearch?
Everytime you search the internet, you could be generating funds for the BTER Foundation.
Thank You!
Thank you for your continued support fo the BTER Foundation. Let us know how we can help you.

Sincerely,







Ronald Sherman, Director,
BioTherapeutics, Education & Research Foundation
"Never doubt that a small group of thoughtful, committed people can change the world. Indeed, it is the only thing that ever has." - Margaret Mead
Publication Credits
THE B

e

TER L

e

TTER
is published by:
BioTherapeutics, Education & Research (BTER) Foundation
36 Urey Court, Irvine, CA 92617
Phone: 949-509-0989 / Fax: 949-509-7040
[email protected]
/ www.BTERFoundation.org
Ronald A. Sherman

Sagiv Ben-Yakir, Jose Contreras-Ruiz, Robert McKie, Jacques Oskam, Pascal Steenvoorde, Tarek Tantawi, Catalina Wang, Shou Yu Wang

Eve Iversen, Joanne Preston, Alison Shorger

Ronald A Sherman (Chair); Randall Sullivan (Secretary);
Samuel G Kohn (Treasurer); Sharon Mendez, RN, CWS;
and Pam Mitchell (Patient Advocate)