Join Our List

Forward to a Friend

| | |
| --- | --- |
| Volume 4; Issue 4 | July, 2008 |
Greetings!

In this issue, we update you on our forthcoming Leech Therapy Policy & Procedure Template. If you have experience with leech therapy, please give us your feedback on our draft policy so that we may post the final guidelines next month.

Also, take a look at the "Got Maggots" T-shirt offer below, provided by this month's sponsor: Monarch Labs. This coupon/advertisement is a first for THE B

e

TER L

e

TTER and a first for Monarch Labs. As always, you will find the latest news and events in biotherapy, from around the world, in THE B

e

TER L

e

TTER.
Draft Leech Therapy Policy and Procedures

The BTER Foundation will soon release the latest in our "Policy & Procedure (P&P) Template" series: Leech Therapy.

A draft of the template can be found on our website at:
http://bterfoundation.org/indexfiles/Leech Therapy policy and procedure, edited, 6 20 08_for public comment.doc

If you have any leech therapy experience and have not already commented on this draft, please review our P&P recommendations and send us your feedback. We plan to release the final version in August, 2008. Board Member Sharon Mendez deserves special commendations for her hard work in putting these policies together and for sharing them with the biotherapy community.

Based on the success of our "Maggot Therapy Policy and Procedures Template, the Foundation's P&P templates are intended to assist first-time practitioners both with the performance of biotherapy and with obtaining the necessary administrative approvals.

The Maggot Debridement Therapy P&P Template has been posted on the internet and distributed free to hundreds of interested therapists since 2005.

BioTherapy in the News
BTER Foundation Director designated
as one of Medical Device Industry's "100
Notable People"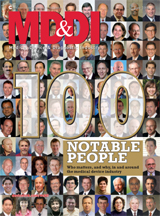 A photograph of Ronald Sherman, MD, Director of the BTER Foundation, can be found on the cover of

Medical Device & Diagnostics Industry

(bottom row, 3rd from the left), along with the other "100 notable people in the medical device industry" for 2008. In the cover story, the journal editors refer to Sherman's contributions to the medical device industry, including conducting clinical trials of medicinal maggots for wound-healing, and his success in securing FDA marketing clearance for those maggots --- the first live animal to achieve such a status in FDA history. Sherman is the co-founder and Laboratory Director of Monarch Labs, which produces medicinal grade maggots (Medical Maggots) and distributes them throughout North America. He has also assisted scores of others set up their own laboratories to supply medicinal maggots to thousands of patients throughout the world. Please join us in congratulating Dr. Sherman for this recognition by the medical device industry.

BTER Foundation Announcements
Board Member Pam Mitchell publishes Memoir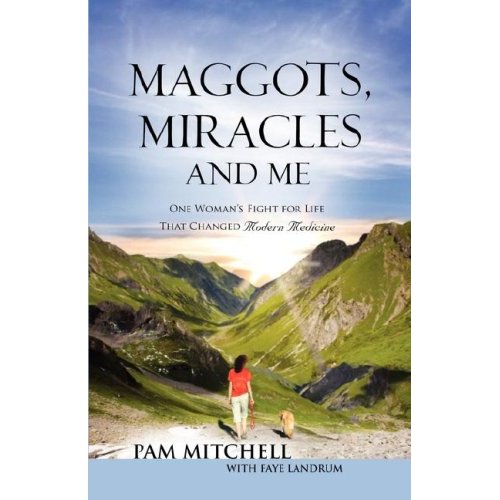 Pam Mitchell's autobiography is now available again in paperback, and still getting great reviews. If you order your copy through the BTER Foundation Website, you can get the great prices of Amazon.com and Amazon will donate a portion of the sale to the Foundation. In fact, get all of your books through the BTER Foundation-Amazon.com web link.

Other Ways to Support BioTherapy


There are many ways to support biotherapy and the patients whose lives are improved by it. Donations are only one way to support the Foundation. Purchasing books, gifts, novelties, or almost anything else through our shopping portals will lead the the vendors to donate a portion of the sale to the BTER Foundation. In fact, if you and your friends simply set this GoodSearch browser page as your internet home page or at least use Goodsearch.com as your internet browser, then every search you do will generate $.01 for biotherapy. Just 100 people searching on the internet just once each day would generate $365 each year ($366 this year!) Try it!!

Courses & Meetings
BTER Foundation Workshops and Exhibits
Conferences with BioTherapy Lectures & Posters
WOCN-Pacific Coast Region; March 27-28, 2008; Carmel, CA
Symposium for Advanced Wound Care; April 24-27; San Diego, CA
Diabetes Expo-Los Angeles; May 3; Long Beach, CA
World Union of Wound Healing Societies; June 4-8; Toronto, Canada
Undersea & Hyperbaric Medical Society; June 26-28; Salt Lake City
American Podiatric Medical Association; July 24-27; Honolulu, HI
Diabetic Limb Salvage; September 18-20; Washington, D.C.
Wild on Wounds; September 18-20; Orlando, FL
American Association of Equine Practitioners; December 6-10; San Diego, CA

How about a Workshop in Your Town?


To arrange a maggot therapy or leech therapy workshop in your community, contact the BTER Foundation. Local and national experts are available to provide 1-hour lectures, full day workshops, and anything in between.
Do You GoodSearch?
Everytime you search the internet, you could be generating funds for the BTER Foundation.
Thank you!
Thank you for your continued support of the BTER Foundation. Let us know how we can help you.







Ronald Sherman, Director
BioTherapeutics, Education & Research Foundation

"Never doubt that a small group of thoughtful, committed people can change the world. Indeed, it is the only thing that ever has." - Margaret Mead
Publication Credits
THE B

e

TER L

e

TTER
is published by:
BioTherapeutics, Education & Research (BTER) Foundation
36 Urey Court, Irvine, CA 92617
Phone: 949-509-0989 / Fax: 949-509-7040
editor@BTERFoundation.org / www.BTERFoundation.org

Ronald A. Sherman

Sagiv Ben-Yakir, Jose Contreras-Ruiz, Robert McKie, Jacques Oskam, Pascal Steenvoorde, Tarek Tantawi, Catalina Wang, Shou Yu Wang

Eve Iversen, Joanne Preston, Alison Shorger

Ronald A Sherman (Chair); Randall Sullivan (Secretary);
Samuel G Kohn (Treasurer); Sharon Mendez, RN, CWS;
and Pam Mitchell (Patient Advocate)