Maggot Debridement Therapy (MDT) is the medical use of live maggots (fly larvae) for cleaning non-healing wounds. In maggot debridement therapy (also known as maggot therapy, larva therapy, larval therapy, biodebridement or biosurgery), disinfected fly larvae are applied to the wound within special dressings. Medical grade maggots have three primary actions: they clean the wound by removing dead and infected tissue ("debridement"), they disinfect the wound (kill bacteria), and they speed the rate of healing. Several videos on MDT can be found on our BTER Foundation video contest page.
This page describes the following issues:
---
History of Maggot Therapy
Historically, maggots have been known for centuries to help heal wounds. Many military surgeons noted that soldiers whose wounds became infested with maggots did better — and had a much lower mortality rate — than did soldiers with similar wounds not infested. There is strong evidence to suggest that wounds were intentionally infested with fly larvae by one or two confederate military surgeons during the American Civil War. But it was William Baer, at Johns Hopkins University in Baltimore, Maryland during the late 1920's, who first treated, studied, and published a sizable series of patients into whose wounds he applied maggots. Baer is also one of the first to recommend using specific species of blow flies, specially reared and disinfected for that purpose. Baer presented his findings at conferences; his results in 98 children with osteomyelitis were published posthumously by his colleagues in 1931. MDT was successfully and routinely performed by thousands of physicians until the mid-1940's, when its use was supplanted by the new antibiotics and surgical techniques that came out of World War II. Maggot therapy was occasionally used during the 1970's and 1980's, but only when antibiotics, surgery, and modern wound care failed to control the advancing wound. The first modern clinical studies of maggot therapy were initiated in 1989, at the Veterans Affairs Medical Center in Long Beach, CA, and at the University of California, Irvine, to answer the following questions:
"Is maggot therapy still useful today?"
"Should maggot therapy be used as an adjunct to other treatments, not merely as a last resort?"
"How does maggot therapy compare to other treatment at our disposal?"
The results of those early studies, and the many studies and reports that have followed, indicate that MDT is still useful today. By 1995, a handful of doctors in 4 countries were using MDT. In 1996, the International Biotherapy Society was founded in Wales. Today, over 3,000 therapists are using maggot therapy in 20 countries. Approximately 30,000 treatments were applied in the year 2003. In January, 2004, the U.S. Food and Drug Administration (FDA) issued 510(k) #33391, thereby allowing the production and distribution of "Medical Maggots" as a medical device. In February, 2004, the British National Health Service (NHS) permitted its doctors to prescribe maggot therapy. Patients no longer have to be referred to one of a few regional wound-specialty hospitals to get maggot treatments.
Maggot Therapy is saving Lives and Limbs everyday
---
Natural History of Blow Flies
Maggots, by definition, are fly larvae, just as caterpillars are butterfly larvae or moth larvae. Maggots do not appear all by themselves ("de novo"); they hatch from eggs, laid by adult female flies. Not all species of flies are safe and effective a medicinal maggots. There are thousands of species of flies, each with its own habits and life cycle. The flies used most often for this purpose called "blow flies" (Calliphoridae); and the species used most commonly is Phaenicia sericata, the green blow fly.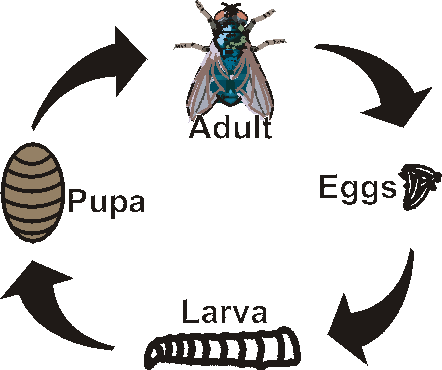 Diagram of a typical blow fly life cycle.
---
Clinical Practice of Maggot Therapy
Medicinal maggots have three actions: 1) they debride (clean) wounds by dissolving the dead (necrotic), infected tissue; 2) they disinfect the wound, by killing bacteria; 3) they stimulate wound healing; and 4) they dissolve existing biofilm and inhibit the formation of new biofilm. The current status of MDT practice is estimated to involve over 3,000 doctors, clinics, and hospitals in over 24 countries. In 2008, approximately 50,000 treatments were administered to over 10,000 patients. The application of maggot dressings is simple: maggots are contained in a cage-like dressing over the wound for 2-4 days. The maggots may be allowed to move freely within that cage ("confinement dressing"), with the wound floor acting as the bottom of the cage; or the maggots may be contained within a sealed pouch ("containment dressing"), placed on top of the wound. The BTER Foundation, in collaboration with community leaders, drafted a MDT Policies & Procedures template for hospitals and clinics to use when writing policies for their facility. For more details about the specific application procedures, readers are referred to the manufacturer's directions. A list of manufacturers can be found elsewhere on this site.
---
What's New in Maggot Therapy?
The BioTherapeutics, Education and Research (BTER) Foundation has produced a workshop to train health care providers in the Principles and Practice of Maggot Therapy. The workshops are held in cities accross the Country, as invitations and co-sponsors present themselves. Participants learn the indications, contraindications, and techniques of maggot therapy during this 6-hour didactic and practical ("hands-on") training workshop. For more information about the curriculum and the upcoming workshops, visit the MDT Workshop Website or contact the BTER Foundation. The 8th International Conference on Biotherapy occurred in November 2010. More information is available at this site, or from the International Biotherapy Society.
---
How to find a Therapist
We have assembled a searchable database of maggot therapists, educators and advocates who are available for contact on our Maggot Therapy Referral page. Anyone with interest, knowledge or experience in leech therapy is encouraged to contact the Foundation to be included in the referral list.
Video: Maggot Therapy Facts & Myths – Discussing MDT with your doctor
---
Policies & Procedures
The Foundation's Policies & Procedures Template for maggot therapy is intended to assist first-time practitioners both with the performance of biotherapy and with obtaining the necessary administrative approvals. If you would like our P&P template for maggot therapy, click here.
---
Producers and Distributors of Medical-Grade Maggots
Licensed health care providers can obtain medical grade maggots from the following sources:
In the United States / North America:
In Europe and the UK:
In Japan:
Japan Maggot Company
Hideya Mitsui, MD
Assistant Professor of Surgery
Department of vascular Surgery
Okayama University Medical School
2-5-1 Schikata
Okayama city 700-8558
Japan
Tel: 9-011-81-86-235-7359
FAX: 9-011-81-86-235-7431
http://www.icn-jp.com/~maggot/
Biotherapy Medical Company, Ltd
Masaaki Miyamoto M.D., F.A.C.S, Director
Associate Professor, Department of Regenerative medicine, Nippon Medical School
TEL/FAX:0749-53-1485
E-mail:

[email protected]


http://www.btmcl.com
In Australia and the South Pacific:
Merilyn Geary, Laboratory Director
Department of Medical Entomology
Westmead Hospital
Westmead NSW 2145
Australia
Phone: +61 (2) 9845 7548
Fax: +61 (2) 9893 8659
E-MAIL:

[email protected]
In Egypt:
Dr. Tarek I. Tantawi
Department of Zoology Faculty of Science
Alexandria University
Moharrem Bey, Alexandria
Egypt
E-mail:

[email protected]
In Israel:
In Malaysia:
Medical Biotherapy SDN BHD
Contact person: Mr Mohd Fairuz Muhamad Akir
No 9C , JLN SG 3/1
Pusat Bandar Sri Gombak,Taman Sri Gombak, 61800
Bt Caves, Selangor
Phone: +60361891042, +60361886042
Fax:+60361891043
Hp:+60127050435 Email:

[email protected]


www.sterilarvae.com
---
Related Topics
When maggots infest humans or other vertebrates, it is called myiasis. Naturally-occurring myiasis can be beneficial to the host, but sometimes it is harmful. The type of maggot and the circumstances surrounding the infestation are factors that can determine whether the infestation will be mutually beneficial parasitic. Maggots frequently furnish important legal information, and are used to help solve crimes, because their age, or stage of development, can indicate the time of death (or, more specifically, the "postmortem interval"); the presence of maggots or other insects on a body (live or dead) can also provide information about the location and/or circumstances of a crime. The study of maggots and other insects in this role is called Forensic Entomology.
Have a maggot or fly question that was not answered in this article or the references below? Visit our Frequently Asked Questions page, or ask your question on our Biotherapy Forum.
For videos of patients, therapists and the general procedure of maggot therapy, visit our videos & media pages.
For Policies & Procedures and other resources that you can view or download from the BTER Foundation website, visit our Guidelines, Policies & Procedures pages.
---
MDT References
Note that these and other references will soon be available to members, through our library. You may also visit our more extensive References and Clinical Studies page for maggot therapy here.
Anderson I. Debridement methods in wound care. Nurs Stand. 2006 Feb 22-28;20(24):65-6, 68, 70 passim. PMID: 16526165
Armstrong DG, Salas P, Short B, Martin BR, Kimbriel HR, Nixon BP, Boulton AJ. Maggot therapy in "lower-extremity hospice" wound care: fewer amputations and more antibiotic-free days. J Am Podiatr Med Assoc. 2005 May-Jun;95(3):254-7. PMID: 15901812
Armstrong DG, Mossel J, Short B, Nixon BP, Knowles EA, Boulton AJ. Maggot debridement therapy: a primer. J Am Podiatr Med Assoc. 2002 Jul-Aug;92(7):398-401. PMID: 12122127
Attinger CE, Janis JE, Steinberg J, Schwartz J, Al-Attar A, Couch K. Clinical approach to wounds: debridement and wound bed preparation including the use of dressings and wound-healing adjuvants. Plast Reconstr Surg. 2006 Jun;117(7 Suppl):72S-109S. PMID: 16799376
Baer WS. The treatment of chronic osteomyelitis with the maggot (larva of the blow fly). J Bone Joint Surg Am. 1931;13:438–475.
Ballard K, Baxter H. Developments in wound care for difficult to manage wounds. Br J Nurs. 2000 Apr 13-26;9(7):405-8, 410, 412. PMID: 11111435
Beasley WD, Hirst G. Making a meal of MRSA-the role of biosurgery in hospital-acquired infection. J Hosp Infect. 2004 Jan;56(1):6-9. PMID: 14706264
Bell NJ, Thomas S. Use of sterile maggots to treat panniculitis in an aged donkey. Vet Rec. 2001 Dec 22-29;149(25):768-70. PMID: 11808664
Bonn D. Maggot therapy: an alternative for wound infection. Lancet. 2000 Sep 30;356(9236):1174. PMID: 11030307
Calianno C, Jakubek P. Wound bed preparation: laying the foundation for treating chronic wounds, part I. Nursing. 2006 Feb;36(2):70-1. PMID: 16462279
Cerovský V, Zdárek J, Fucík V, Monincová L, Voburka Z, Bém R. Lucifensin, the long-sought antimicrobial factor of medicinal maggots of the blowfly Lucilia sericata. Cell Mol Life Sci. 2010;67(3):455-66. Epub 2009 Nov 18. PMID: 19921400
Church J. Biosurgery in wound healing. J Wound Care. 1996 Feb;5(2):51. PMID: 8697131
Church JC. Re: Bleeding complications in patients treated with maggot debridement therapy, Steenvoorde P and Oskam J, IJLEW 2005;4(1):57-58. Int J Low Extrem Wounds. 2005 Mar;4(1):59. PMID: 15860454
Church JC, Courtenay M. Maggot debridement therapy for chronic wounds. Int J Low Extrem Wounds. 2002 Jun;1(2):129-34. Erratum in: Int J Low Extrem Wounds. 2002 Sep;1(3):213. PMID: 15871963
Claxton MJ, Armstrong DG, Short B, Vazquez JR, Boulton AJ. 5 questions–and answers–about maggot debridement therapy. Adv Skin Wound Care. 2003 Mar-Apr;16(2):99-102. PMID: 12690234
Dumville JC, Worthy G, Bland JM, Cullum N, Dowson C, Iglesias C, Mitchell JL, Nelson EA, Soares MO, Torgerson DJ; VenUS II team. Larval therapy for leg ulcers (VenUS II): randomised controlled trial. BMJ. 2009; 19;338:b773. PMID: 19304577
Dunn C, Raghavan U, Pfleiderer AG. The use of maggots in head and neck necrotizing fasciitis. J Laryngol Otol. 2002 Jan;116(1):70-2. PMID: 11860662
Evans P. Larvae therapy and venous leg ulcers: reducing the 'yuk factor'. J Wound Care. 2002 Nov;11(10):407-8. PMID: 12494833
Fitzpatrick M. Tiny "surgeons" prove surprisingly effective. JAMA. 2000 Nov 8;284(18):2306-7. PMID: 11066163
Husain ZS, Fallat LM. Maggot therapy for wound debridement in a traumatic foot-degloving injury: a case report. J Foot Ankle Surg. 2003 Nov-Dec;42(6):371-6. PMID: 14688781
Jarvis A. Maggot therapy. Lancet. 2000 Dec 9;356(9246):2016.PMID: 11130559
Jones M, Thomas S. Larval therapy. Nurs Stand. 2000 Feb 2-8;14(20):47-51; quiz 53-4. Review. PMID: 11209358
Jukema GN, Menon AG, Bernards AT, Steenvoorde P, Taheri Rastegar A, van Dissel JT. Amputation-sparing treatment by nature: "surgical" maggots revisited. Clin Infect Dis. 2002 Dec 15;35(12):1566-71. Epub 2002 Dec 2. PMID: 12471580
Knowles A, Findlow A, Jackson N. Management of a diabetic foot ulcer using larval therapy. Nurs Stand. 2001 Oct 24-30;16(6):73-6. PMID: 11977731
Krajacic A. Consider using maggots. Todays Surg Nurse. 1998 May-Jun;20(3):28-32. PMID: 10026636
Mumcuoglu KY. Clinical applications for maggots in wound care. Am J Clin Dermatol. 2001;2(4):219-27. Review. PMID: 11705249
Mumcuoglu KY, Ingber A, Gilead L, Stessman J, Friedmann R, Schulman H, Bichucher H, Ioffe-Uspensky I, Miller J, Galun R, Raz I. Maggot therapy for the treatment of intractable wounds. Int J Dermatol. 1999 Aug;38(8):623-7. PMID: 10487456
Mumcuoglu KY, Ingber A, Gilead L, Stessman J, Friedmann R, Schulman H, Bichucher H, Ioffe-Uspensky I, Miller J, Galun R, Raz I. Maggot therapy for the treatment of diabetic foot ulcers. Diabetes Care. 1998 Nov;21(11):2030-1. PMID: 9802765
Namias N, Varela JE, Varas RP, Quintana O, Ward CG. Biodebridement: a case report of maggot therapy for limb salvage after fourth-degree burns. J Burn Care Rehabil. 2000 May-Jun;21(3):254-7. PMID: 10850908
Nigam Y, Bexfield A, Thomas S, Ratcliffe NA. Maggot Therapy: The Science and Implication for CAM Part II-Maggots Combat Infection. Evid Based Complement Alternat Med. 2006 Sep;3(3):303-8. PMID: 16951714
Nigam Y, Bexfield A, Thomas S, Ratcliffe NA. Maggot Therapy: The Science and Implication for CAM Part I-History and Bacterial Resistance. Evid Based Complement Alternat Med. 2006 Jun;3(2):223-7. PMID: 16786052
Pechter EA and Sherman RA: Maggot therapy: The Medical Metamorphosis. Plast Reconstruct Surg. 72 (4): 567-570. 1983.
Preuss SF, Stenzel MJ, Esriti A. The successful use of maggots in necrotizing fasciitis of the neck: a case report. Head Neck. 2004 Aug;26(8):747-50. PMID: 15287043
Rojo S, Geraghty S. Hemophilia and maggots: from hospital admission to healed wound. Ostomy Wound Manage. 2004 Apr;50(4):30, 32, 34. PMID: 15259799
Scavee V, Polis X, Schoevaerdts JC. Maggot therapy: many hands make light work. Acta Chir Belg. 2003 Aug;103(4):405-7. PMID: 14524161
Sealby N. The use of maggot therapy in the treatment of a malignant foot wound. Br J Community Nurs. 2004 Mar;9(3):S16-9. PMID: 15029003
Semple L. Use of larval therapy to treat a diabetic patient's pressure ulcer. Br J Nurs. 2003 Aug;12(15 Suppl):S6-13. PMID: 12937380
Sherman R. Age-old therapy gets new approval. Adv Skin Wound Care. 2005 Jan-Feb;18(1):12-5. PMID: 15716781
Sherman RA, Morrison S, Ng D. Maggot debridement therapy for serious horse wounds – A survey of practitioners. Vet J. 2006 Jul 8; PMID: 16831562
Sherman RA, Stevens H, Ng D, Iversen E. Treating wounds in small animals with maggot debridement therapy: A survey of practitioners. Vet J. 2005 Dec 27.PMID: 16386439
Sherman RA, Shimoda KJ. Presurgical maggot debridement of soft tissue wounds is associated with decreased rates of postoperative infection. Clin Infect Dis. 2004 Oct 1;39(7):1067-70. Epub 2004 Sep 1. PMID: 15472863
Sherman RA. Maggot therapy for treating diabetic foot ulcers unresponsive to conventional therapy. Diabetes Care. 2003 Feb;26(2):446-51. PMID: 12547878
Sherman RA. Maggot versus conservative debridement therapy for the treatment of pressure ulcers. Wound Repair Regen. 2002 Jul-Aug;10(4):208-14. PMID: 12191002
Sherman RA. Maggot therapy for foot and leg wounds. Int J Low Extrem Wounds. 2002 Jun;1(2):135-42. PMID: 15871964
Sherman RA, Sherman J, Gilead L, Lipo M, Mumcuoglu KY. Maggot debridement therapy in outpatients. Arch Phys Med Rehabil. 2001 Sep;82(9):1226-9. PMID: 11552195
Sherman RA, Hall MJ, Thomas S. Medicinal maggots: an ancient remedy for some contemporary afflictions. Annu Rev Entomol. 2000;45:55-81. Review. PMID: 10761570
Sherman RA. A new dressing design for use with maggot therapy. Plast Reconstr Surg. 1997 Aug;100(2):451-6. PMID: 9252615
Sherman RA, Tran JM, Sullivan R. Maggot therapy for venous stasis ulcers. Arch Dermatol. 1996 Mar;132(3):254-6. PMID: 8607628
Sherman RA, Wyle FA, Thrupp L. Effects of seven antibiotics on the growth and development of Phaenicia sericata (Diptera: Calliphoridae) larvae. J Med Entomol. 1995 Sep;32(5):646-9. PMID: 7473619
Sherman RA, Wyle F, Vulpe M. Maggot therapy for treating pressure ulcers in spinal cord injury patients. J Spinal Cord Med. 1995 Apr;18(2):71-4. PMID: 7640976
Steenvoorde P, Buddingh TJ, van Engeland A, Oskam J. Maggot therapy and the "yuk" factor: an issue for the patient? Wound Repair Regen. 2005 May-Jun;13(3):350-2. PMID: 15953056
Steenvoorde P, Oskam J. Use of larval therapy to combat infection after breast-conserving surgery. J Wound Care. 2005 May;14(5):212-3. PMID: 15909436
Steenvoorde P, Oskam J. Bleeding complications in patients treated with maggot debridement therapy. Int J Low Extrem Wounds. 2005 Mar;4(1):57-8. PMID: 15860453
Steenvoorde P, Jukema GN. The antimicrobial activity of maggots: in-vivo results. J Tissue Viability. 2004 Jul;14(3):97-101. PMID: 15709356
Steenvoorde P, Jukema GN. Can laboratory investigations help us to decide when to discontinue larval therapy? J Wound Care. 2004 Jan;13(1):38-40. PMID: 14969027
Summers JB, Kaminski J. Maggot debridement therapy for diabetic necrotic foot. Am Fam Physician. 2003 Dec 15;68(12):2327, 2330.PMID: 14705752
Summers JB, Kaminski J. Maggot debridement therapy (MDT) for burn wounds. Burns. 2003 Aug;29(5):501-2. PMID: 12880736
Teich S, Myers RA. Maggot therapy for severe skin infections. South Med J. 1986;79(9):1153-5.
Thomas S. The use of sterile maggots in wound management. Nurs Times. 2002 Sep 3-9;98(36):45-6. PMID: 12244669
Thomas S, Jones M, Wynn K, Fowler T. The current status of maggot therapy in wound healing. Br J Nurs. 2001 Dec;10(22 Suppl):S5-8, S10, S12. PMID: 11842471
Thomas S, Jones M. Wound debridement: evaluating the costs. Nurs Stand. 2001 Feb 14-20;15(22):59-61. Review. PMID: 12211948
Thomas S, Andrews AM, Hay NP, Bourgoise S. The anti-microbial activity of maggot secretions: results of a preliminary study. J Tissue Viability. 1999 Oct;9(4):127-32. PMID: 10808842
Thomas S, Andrews A, Jones M, Church J. Maggots are useful in treating infected or necrotic wounds. BMJ. 1999 Mar 20;318(7186):807-8. PMID: 10082718
Vistnes LM, Lee R, Ksander GA. Proteolytic activity of blowfly larvae secretions in experimental burns. Surgery. 1981 Nov;90(5):835-41. PMID: 7029766
Wayman J, Nirojogi V, Walker A, Sowinski A, Walker MA. The cost effectiveness of larval therapy in venous ulcers. J Tissue Viability. 2000 Jul;10(3):91-4. Erratum in: J Tissue Viability 2001 Jan;11(1):51. PMID: 11299572
Wolff H, Hansson C. Larval therapy–an effective method of ulcer debridement. Clin Exp Dermatol. 2003 Mar;28(2):134-7. PMID: 12653696
Wolff H, Hansson C. Larval therapy for a leg ulcer with methicillin-resistant Staphylococcus aureus. Acta Derm Venereol. 1999 Jul;79(4):320-1. PMID: 10429993
Wollina U, Kinscher M, Fengler H. Maggot therapy in the treatment of wounds of exposed knee prostheses. Int J Dermatol. 2005 Oct;44(10):884-6. PMID: 16207200
Wollina U, Liebold K, Schmidt WD, Hartmann M, Fassler D. Biosurgery supports granulation and debridement in chronic wounds—clinical data and remittance spectroscopy measurement. Int J Dermatol. 2002 Oct;41(10):635-9. PMID: 12390183
---
MDT Links and Web Resources